Kara McEachern O.D., Optometrist
Specialty: Optometry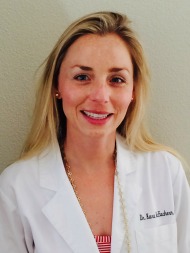 Dr. Kara McEachern graduated Beta Sigma Kappa from the University of California at Berkeley Optometry School in 2008.
Dr. McEachern's clinical training included a series of specialized internships: pediatrics, binocular vision, contact lens and low vision at the Meredith Morgan Eye Center in Berkeley; ocular disease and primary care at the Alameda County Medical Center in Oakland; surgery and ocular disease at the VA Medical Center Livermore; and primary care and contact lens at Cal State LA and Cal State Northridge Student Health Centers.
Dr. McEachern is a therapeutic and glaucoma certified Optometrist and is licensed by the California State Board of Optometry.  She practices both family and pediatric optometry.  She thoroughly enjoys working with children and has been very involved in Childsight and school vision screenings.
Dr. McEachern was born and raised in San Diego, CA. She now resides in Aliso Viejo with her husband, daughter, and son.  She enjoys spending time with her family, taking exercise classes, listening to country music, and eating out at new restaurants.
PRACTICE SERVICES
Pediatric Ophthalmology
Strabismus
Adult General Eye Exams
Optical Services
Optometrist - On Site
OFFICE HOURS
Monday - Thursday
9:00 a.m. - 12:00 p.m.
2:00 p.m. - 5:00 p.m.
Closed for lunch
12:00 p.m. - 2:00 p.m.
Friday
9:00 a.m. - 12.00 p.m