Pediatric Ophthalmology and Strabismus
Pediatric Eye Doctor, Board Certified
Dr. Prepas practices Pediatric Ophthalmology and Strabismus in his private practice located in Newport Beach, California. Dr. Prepas specializes in the treatment of Strabismus (crossed or wandering eyes), which may prevent proper binocular vision and interfere with depth perception. Strabismus can be either a neurologic or muscle problem.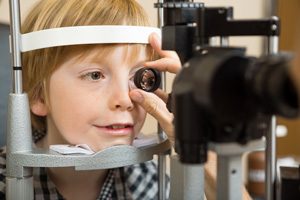 Ophthalmology is the branch of medicine concerned with diseases and surgery of the visual system, including the eye, orbits, and areas surrounding the eyes, such as the extraocular muscles. Ophthalmologists are both surgical and medical specialists, as they are the physicians who diagnose and treat eye disorders and perform eye surgery.
Ophthalmology is more than just vision care. This specialist is trained to medically or surgically treat:
All ocular and vision problems
Disorders of the eyelids
Disorders of visual pathways
Pediatric Ophthalmologists treat infants, children and adolescents. They diagnose illness, provide treatment, prescribe medication and perform eye surgery.
Pediatric (Children's) Eye Exams or Vision Screenings
Under Dr. Prepas' care, a comprehensive eye exam includes testing and evaluation of visual function. In the absence of complete testing,  pediatric vision problems can go undetected, and, in some cases, can be misdiagnosed as a learning disability or behavioral problem. This page lists some of the visual skills which need to be evaluated as part of a child's comprehensive vision examination.
Remember: an eye exam that tests distance vision only is not an adequate evaluation of a child's visual development.  Below are some common pediatric visual conditions which are not detected through the 20/20 eye chart test alone:
Children's Medical Conditions:
What is Ophthalmology?
Ophthalmology is the branch of medicine which deals with diseases and surgery of the visual pathways, including the eye, brain, and areas surrounding the eye, such as the lacrimal system, extraocular muscles and eyelids. An ophthalmologist is an eye specialist for medical and surgical problems. Since ophthalmologists perform operations on eyes, they are considered to be both surgical and medical specialists.
In the United States, four years of residency training after medical school are required, with the first year being an internship in surgery, internal medicine, pediatrics, or a general transition year. Optional fellowships in advanced topics may be pursued for several years after residency. Most currently practicing ophthalmologists train in medical residency programs accredited by the Accreditation Council for Graduate Medical Education (ACGME) and are board certified by the American Board of Ophthalmology.
Completing the requirements of continuing medical education is mandatory for continuing licensure. Professional bodies like the AAO and AAPOS organize conferences and help members through continuing medical education programs.
Practice Services
Pediatric Ophthalmology
Strabismus
Adult General Eye Exams
Optical Services